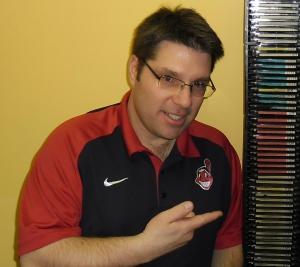 Matt Spatz
Monday – Friday: 3:00pm – 7:00pm
Matt Spatz, aka Spatz on Y-103, gets you home weekday afternoons with great conversation about what's going on in the world, from sports to rock news to stupid criminals to just generally the weird of the world – all through the eyes of a former collegiate athlete who is divorced with two kids; re-married with two step children; and, of course, a trusty companion – Carl the Great Dane!  Yeah, he's got a lot to draw from!
Favorite teams: Cleveland Indians (duh, look at the pic above), Cleveland Cavaliers, Ohio State Buckeyes
Favorite Bands: Rush, AC/DC, The Rolling Stones, Red Hot Chili Peppers, Queen, Tom Petty, Aerosmith
CHECK OUT THE HISTORY OF ROCK IN 15 MINUTES HERE!